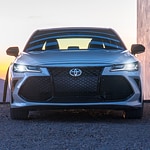 One look at the Toyota Avalon confirms why this sedan remains Toyota's flagship ride and among the most beloved in the world. Frankly, it looks like money, with luxurious and refined touches, such as high-gloss finishes, big alloy wheels and large, shiny bar grilles. It's also highly capable and efficient, with a 2,000-pound towing capacity. Our Toyota of Corvallis team compiled a short list of features to explain our enthusiasm.
Adaptive Cornering Lights
Have ever wished you or your car could see around corners? Now you can thanks to the Toyota Avalon's Adaptive Cornering Lights.
Read More